Thai New York Spa: Thai NY Signature Massage Featured in Time Out New York
Best Spas 2013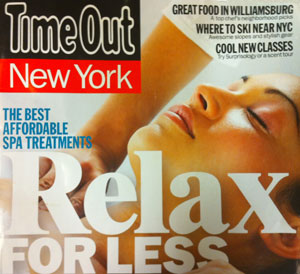 The whiz of blow-dryers and chatty technicians up front gave me pause about how serene my treatment would be, but the spa area of this hybrid joint turned out to be plenty quiet. While filling out the requisite paperwork, I sipped a soothing cup of ginger-lemon tea and wiped my hands with a warm towel. Kan Prasertsri, who owns the spa's two outposts with her sister Pat, took me into a private room in the back for my Thai massage, which incorporates more appendage-stretching than is found in other techniques. During the hour, Kan went to work with scent-free Bon Vital organic oils, kneading my whole body carefully and paying extra attention to my problem areas (shoulders and lower back). She checked in often to make sure the pressure was okay and that I was comfortable, but not so frequently that it disrupted my reverie. My arms and legs were often lightly twisted into almost yogalike poses, loosening and relaxing muscles I'd clearly never paid attention to. When I returned to the front of the salon, I was greeted by a towel and another tray of tea, extending my Zen state for a few more moments. 60min regularly $79. Mention TONY when booking or at time of appointment for 15% off all massage and facial treatments through Feb 7. 718-932-0999, thainewyorkspa.com
Read more: Massages – Spas & Salons – Time Out New York
Massages And More On Tap At Thai New York Spa & Salon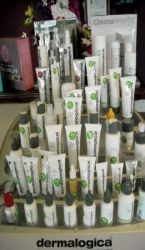 Thai New York Spa and Salon meets every hair care need in the most comfortable beautician chairs available.
There is no better way to relax than to undergo a massage at Thai New York Spa and Salon, 23-92 21st St., Astoria. Under the hands of an experienced, professional massage therapist, a Thai Traditional Massage, Thai New York's signature offering, will provide a soothing vacation in another realm, relieving all the cares and problems of everyday life—for only $50 an hour.
The warm overtones of wood and other traditional materials immediately calm and soothe Thai New York clients the moment they enter the conveniently located spa facility, open seven days a week from 10:30 a.m. to 8:30 p.m. Comfort abounds, from the traditional tea and hot towels to the signature massages.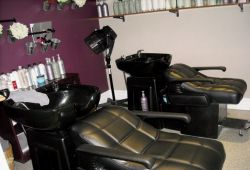 Beautifying and therapeutic hair, nail and facial and body care products abound at Thai New York Spa and Salon.
It only takes one swift glance to realize that Thai New York offers much more than massages. Hair services, nail treatments, waxing, nail care and organic facials are all offered as well. At Thai New York, whether it's a quick answer to a hair care or nail problem or an hour-long session with a massage therapist, there's something to meet every grooming and massage therapy need.
Thai New York Spa and Salon is a welcome addition to the Astoria streetscape. To make an appointment or for more information, call 718-932-0999 or visit www.thainewyorkspa.com.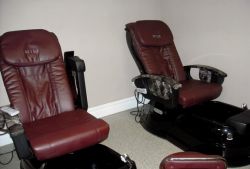 Clients can relax in comfort for manicures and pedicures.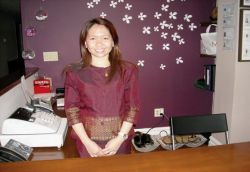 A reception worthy of royalty awaits the visitor at Thai New York Spa and Salon, 23-92 21st St., Astoria.
---
The Q Note Life in the Borough of Queens
Today's Note 07/28/09 The Royal Thai Treatment Spa-Goers Sample the Exotic in Astoria Get an authentic Asian massage at Thai New York Spa & Salon
Locals who have been clamoring for Thai Pavilion to unveil its second outpost in Astoria, on 21st Street, only have a few more days to go before getting their fix of Tofu Lad Prig. But, the newfangled retail complex in which the eatery is opening – home to Da Franco Italian restaurant and Nature's Chemists – has been celebrating Thai tradition for about a month now, with the debut of the tranquil Thai New York Spa & Salon.
When beloved SoHo spa Thai Privilege shut down, Thai massage enthusiasts across the city winced. Luckily, Karn, a Thai Privilege vet with a loyal client list, decided to transplant Thai paradise to Queens when she launched her own operation.
Upon entry of the shiny new space with hardwood floors, you're instantly soothed with a hot cloth and cup of ginger tea. Then you're led down a candlelit hallway and whisked into a treatment room where the walls are adorned with faux flowers and Thai music softly plays – not the usual soundtrack of Enya's greatest hits.
Sure you can get your typical hot stone, aromatherapy and Swedish massages here yet the spa's raison d'être is the Thai Massage. Instead of stripping down and getting slicked with oil, in this ancient healing art tracing its roots back to India more than 2,500 years ago, one dons loose, comfortable clothing and gets straddled, stretched and kneaded. Basically a form of passive yoga (no fears of breaking the trance mid-way to get into Downward Dog mode; the therapist moves your body for you), it taps into your chakras, gets the blood flowing, reduces daily stress and helps quiet the mind so you're one step closer to feeling harmonious. "It's really deep and energizing," points out Karn.
If you're not ready to fully commit to this intense interactive treatment, try the Thai New York Aromatherapy (and ask for Cindy to do the job), which combines Swedish and Thai pressure point modalities, for a deeper, more restorative dimension to the classic massage.
Acupuncture, herbal scrubs, facials and salon services incorporating products from Moroccanoil and Dermalogica are also on Karn's menu. www.thainewyorkspa.com; 23-92 21st Street, Astoria, 718-932-0999
---
Examiner.com
Spotlight: Thai New York Spa & Salon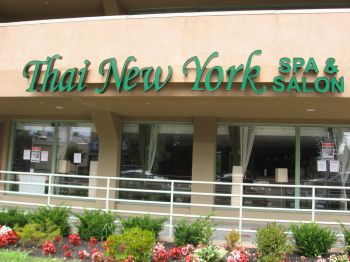 As Astoria becomes more and more gentrified, it seems that more and more spas are throwing down roots in the neighborhood. Though they gravitate to Astoria for similar reasons – an increasingly upscale clientele and proximity to Manhattan – not all the spas in this area offer a variety of different experiences.
The spacious Thai New York Spa opened at in July at 23-92 21st Street. It is the first Thai spa in the borough of Queens. The owner, Karn Prasertsri, and her sister, Pat Prasertsri, who manages the spa, both worked at Thai Privilege Spa in SoHo, which is currently closed for construction.
The signature offering at Thai New York is the Thai New York Aroma Therapy, which their website describes as, "Our signature oil massage combined with the principle of Thai pressure points and Swedish massage."
Perhaps their most exclusive offering is the oil-free, traditional Thai massage, which consists of yoga-like stretches performed on a padded mat on the ground. The spa provides a comfortable, loose cotton outfit for the customer to wear during the massage – a "Thai uniform" as Pat Prasertsri calls it. Upon arrival, you will be greeted with ginger tea and a hot cloth.
For prices, spa hours and other information, visit the spa's website.