The origins of traditional Thai massage
It has treated people for over 1,000 years. Stay relaxed and maintain a healthy body with the healing power of touch; one of the most ancient healing arts. Thai massage has worked wonders for centuries. By pressing, pulling, stretching, and manipulating the body we work the joints and soft tissue. A Thai Massage will improve flexibility, alleviate pain, promote circulation, increase vitality. Offering a completely relaxing experience. In fact, no other type of massage provides a more powerful combination.
Meet Kan, Our Head Therapist & Stylist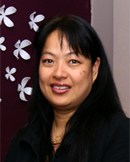 An experienced licensed massage therapist and facial specialist, who previously worked at Privilege Spa (SoHo) and other luxurious New York spas. Serving high profile clientele, Kan has developed unique techniques which combine her education and training. She developed a signature massage treatment that mixes Thai yoga stretching and acupressure.
For facials, she uses Dermalogica products in signature facial treatments that include cleansing, exfoliation, steam, toning, extraction, and a masque of the highest quality.